We have an amazing month of church coming up at Trinity by the Sea! We have guest preachers coming to bring inspiration, and to help us find meaning in the midst of this season. Please come participate whenever you can, support our guests, and prepare your heart and mind for the coming of Christ. 
---
November 26th is Christ the King Sunday! Bishop Jennifer will be here to preach and celebrate at the 9 and 11 a.m. Service, and we will have a big brunch at 10. Come and enjoy!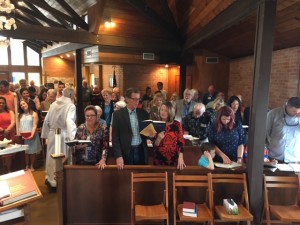 Dec. 3 is the First week of Advent; we will have guest preacher Patrick Miller, Rector of St. Mark's, Houston, the parish James served before moving to Port Aransas.  Patrick was on Staff at Camp Allen when James was a camper. He was written two books: Empty, memoir of a visit to the Holy Land, Spoken: a collection of sermons; he did a TED-X talk.
Ded 10, Advent II, our guest preacher will be our Diocesan Deputy for Disaster Relief, Jennifer Wickham; Jennifer W was with us the weeks after Harvey Hit, and helped us get organized in Port Aransas to respond to the many needs after the hurricane.
Dec 17, Advent III, our guest preacher will be Walter Sohl, the founder of Homes for Displaced Marlins. Walter grew up in Port Aransas, and returned with his family to live here about four years ago. He was one the first responders after the storm, helping to clear the debris from roads. In those early days, he saw the need to get our school families back to Port Aransas and HFDM was born.
Dec 24, Advent IV/Christmas Eve
9 a.m. Service: Holy Eucharist with Sermon
11 a.m. Service: Holy Eucharist with Children's Christmas Pageant
8 p.m. Festive Christmas Eve Holy Eucharist
Dec. 25, Christmas Day